Teach Mama has a great post about what types of recyclables you should keep and how they will benefit your child's learning/craft time. You won't believe how many great ideas this one post alone has in it. I can't wait …
This family is so cute, and they worked so hard on their cave paintings while learning about the Early People. Enchanted Schoolhouse is where you can find out what they used, and what books they referred to to make these …
You can find ALL the links to these great 'wool' crafts seen in this photo over at KidsStyleFile.  Side Note: These craft links were compiled from a computer in Australia where it is currently winter and apparently very cold…but …
I just had to post about this book craft that goes along with one of my favorite children's books, The Very Hungry Caterpillar by Eric Carle.  Currently, my girls are learning about butterflies, in fact we are waiting for the …
Remember making these taped to your knees when you were a kid? I do… I'm an 80s kid, come on now. Ohdeedoh has some great links to bring back your memories of these childhood charmers. Now you can teach your …
TinkerLab has a great post about to get your brain in gear to fill up your 'craft' pantry.  I think I might have about 15 of these items, but some of them are definitely on my 'list' for when I …
Putti Prapancha submitted numerous kids craft tutorials this week, and I knew I had to post about all of them! I figured the best way to do this was to do a Blog Feature.  Her daughter is almost 3 1/2, …
This is a really great project that you and your children's classmates can work on to give as a gift for Teacher Appreciation. Head on over to Mel Designs for the inspiration! I love the 'Thanks for Helping us Grow' …
Toys from Trash is an amazing website that I found through another feature that I did today, Mini-eco. She recommended this site, and I must agree, it does not disappoint! Some of the sections are split into Astronomy, Math, different …
Here's another way to spark creative play in your home or while on the go… felt play mats.  Here,  My Delicious Ambiguity shows you inspiration for a Train Play Mat and a Construction Play Mat. Found Via {…
One of the best things to get children is crafting items….this is a great way to get your child's imagination up and running, as well as getting them away from the TV. Martha Stewarts blog Living in the Family Room…
Tanda Plain and Tall has a great compilation of some simple kid crafts ( no tutorials needed). She also gives you ideas on how to make each of them educational. I love it!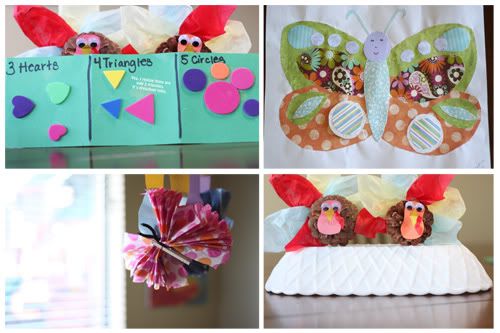 …
I just love the blog Creative Jewish Mom….she never ceases to amaze me with her creativity. I wanted to share her idea about using yarn in creating pictures with your children. No tutorial, just inspiration!
…
Toddler Brain has 4 great Family Tree Ideas just in time for Grandparent's Day. You'll definitely want to check them out!
…
This Lobster Kids Craft was too cute to pass up.  There is no tutorial, but you can get great inspiration from her picture!  Visit Craftalicious for even more ideas! My daughter has been begging me to do a Crab Craft….this …
« go back
—
keep looking »