These little butterfly foot prints that you can do with any age child, even babies! They will love you touching their little feet! You can find the tutorial over at We Made That.…
Tired of being inside all winter? Not able to take a vacation to the beach to show your little ones the sand? Why not bring the ocean to your home? You can find this photo and the lovely tutorial over …
This card is perfect for those little fingers that can't quite write yet. Any child who can hold a crayon loves to color, so this project is perfect for those little ones! You can find the tutorial at Lines Across …
Sometimes it can be really difficult to go through flashcards with your children…as they only last about two days before they are torn, ripped or chewed up! Craft Gemini has come up with a beautiful set of ABC and 123 …
I love when someone comes up with a completely unique and new idea that I have yet to see here in the kid's craft world. This dump truck footprint that is 'sending loads of love' is just adorable. You can …
If you have never been over to Handprint and Footprint Arts and Crafts, and you have little children around, I highly suggest you click on over and take a peek for some wonderful arts and crafts using, you guessed …
Could these little thumbprint Halloween critters be any cuter?  Head on over to Sweet and Lovely Crafts to see how she and her kids made them! I love the idea of displaying them on the cork sheet in a frame!…
When Halloween comes, and I have a baby, I like to dress them in onesie costumes. Since I live in Florida, onesies make a lot more sense than really heavy, hooded, fluffy costumes (not that there is anything wrong …
No Time for Flashcards got her youngest chid involved in her first craft! I love that she let her have at the green paint and just enjoy the sensory exploring…. a must do for this Christmas!
…
Babies brains are like sponges…they soak everything you teach them up! This recycled Jar activity is a great way to teach your child using this matching game! Idea found at Toni's Treehouse . Original Idea found at Homemade by Jill.…
Wondering what to do with all those teeny tiny baby socks? Make sock puppets for when the little ones get older!  Visit Growing Your Baby.Com to find out how to make these cuties!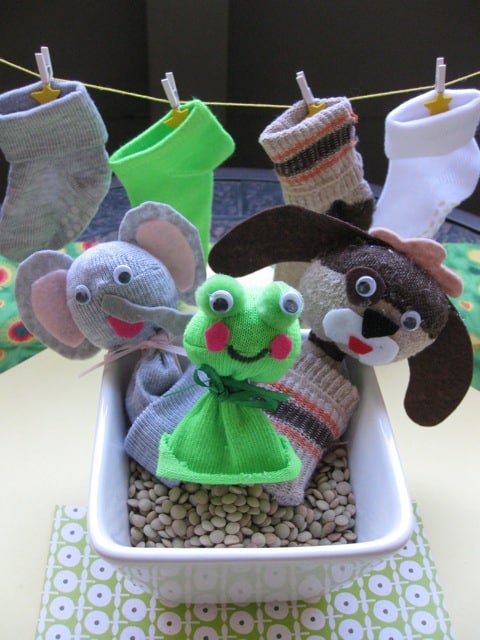 …
Green Valley Crafts shows you something that either the parent can do to decorate a child's room, or an older child can do to spark their imagination and creativity. Check out her Paper Star Punched Art!
…
« go back